A few weeks ago, some 400,000 people descended on the Paris-Le Bourget airport.
They weren't there to catch a plane — not technically speaking, anyway. Rather, they were there to catch a glimpse of the latest in commercial and military aircraft...
And to take in the future of the aerospace and aviation industries.
The event, the Paris Air Show, was a rousing success. Companies in the industries I mentioned secured an estimated $55 billion worth of contracts.
The thing is, one type of aircraft became the star attraction. And its emergence sets the stage for exciting investment opportunities.
Take to the Skies
You'll learn about this aircraft in just a moment. But first, let me tell you a bit about its potential impact.
There's a fast-growing movement to change the way we travel. Rather than get around using bikes, cars, and trains, those looking toward the future envision us zipping around in small, highly-automated aircraft.
This is a big part of a sector known as Urban Air Mobility.
This sector has massive potential. Fortune Business Insights pegged its value at just $1.1 billion in 2021. But by 2028, it's expected to surge to more than $23 billion. And Morgan Stanley forecasts that, by 2040, it will be worth more than $1 trillion.
Fueling these projections is the rise of the aircraft I mentioned above, one that's already disrupting the $50 billion market for helicopters.
These machines are quieter than helicopters and can take off and land vertically. Perhaps that's how they got their name...
Flying Air Taxis
The aircraft I'm referring to is called an electric vertical takeoff and landing vehicle, or eVTOL for short. Here's a picture of one: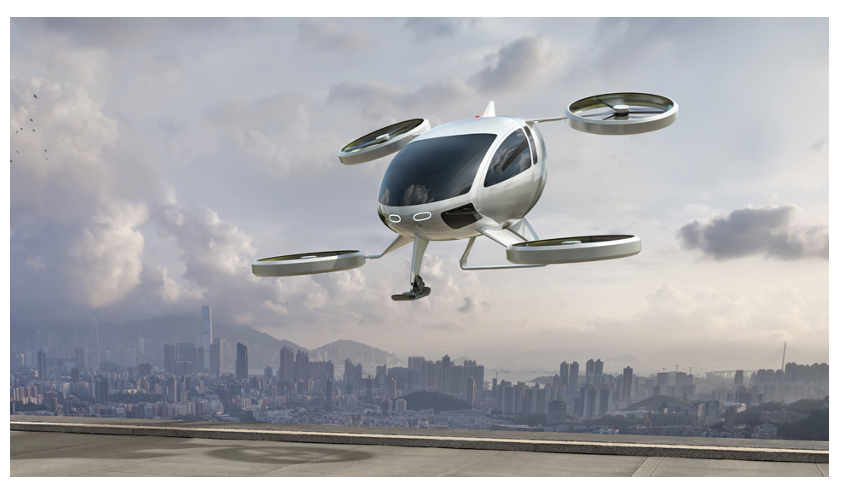 Notably, these vehicles are the next iteration of VTOLs (short for vertical takeoff and landing vehicles) that have been around for decades. The idea behind them was to build aircraft that could fly at the speed of a jet but didn't need a runway to land or take off.
Of course, these original VTOLs are missing a key element of today's: the ability to run on electricity (the "e" in eVTOL).
Today's eVTOLs can carry up to half a dozen passengers or transport nearly a ton of cargo hundreds of miles. This makes them especially useful as air taxis — think George Jetson commuting to work — flying in and out of urban areas to airports, neighboring cities, or even vacation spots. (German eVTOL maker Volocopter will use its aircrafts to shuttle athletes to and from the Olympic Village during the Paris 2024 Olympic Games.)
eVTOLs will also be increasingly valuable to first responders assessing natural disasters, as well as search & rescue operations. And because they're significantly quieter than traditional helicopters, law enforcement will use them to assist in thwarting criminal activity.
Safety First
Applications like these are reason for excitement. But it may be the safety aspect of eVTOLs that gives them the most momentum.
Not only are helicopters notoriously difficult to fly, but they can also be much more challenging in tough weather. (Former NBA superstar Kobe Bryant's tragic death in 2020 and the death of a Thai billionaire two years earlier are reminders of that.)
These problems are significantly reduced with eVTOLs due to state-of-the-art navigation and aeronautic controls, both designed to prevent catastrophic failures.
They're a Hit!
It's no wonder, then, that eVTOLs were the hit of the Paris Air Show. Commercial firms and governments were very interested in the newest models, as was the global-aviation media.
Industry giant Airbus was there with its CityAirbus NextGen model. And the Chinese were represented by EHang, an aerospace company that's created a two-seater eVTOL.
Meanwhile, companies have already placed large orders for these aircraft. United Air Lines (UAL), for example, purchased 400 eVTOLs from a startup and 200 more from another one...
In fact, United announced in March that it's going to launch its first eVTOL air-taxi service from O'Hare Airport to downtown Chicago by 2025. That'll cut an hour-plus commute to about 10 minutes.
Even auto makers are getting in on the action. Companies like Toyota, Hyundai, and Daimler are investing in eVTOLs. And last year, Hyundai displayed a concept for an eVTOL cabin design.
Our "Backdoor" Opportunity
Clearly, eVTOLs are the future of travel. And these aircraft could soon become the path to a windfall of profits. Here's the thing...
A lot of companies creating these aircraft are private. As a result, investors like us can't invest in them. Bummer!
However, I've discovered a "backdoor" way to get into this sector...
It's an investment in a publicly-traded aerospace company that's already staked a heavy claim in the eVTOL phenomenon. And now we can stake our claim in its business as it looks toward the future of Urban Air Mobility.
If you're a Pro subscriber, I'll share all the details with you. So don't miss out!
FOR TREND TRADER PRO READERS ONLY
>>>>>>>>>> Learn more <<<<<<<<<<
Cheers and Good Investing,


Chief Investment Officer
Trend Trader Daily