Last month, an iron worker was replacing suspension cables on the Ambassador Bridge, a 7,500-foot bridge connecting Detroit, Michigan to Ontario, Canada.
He fell — and plunged 152 feet. Miraculously, he survived. He walked away with just a fractured right cheekbone and a few broken ribs.
Not all repair-related accidents have such happy endings. In the 1930s, for example, just a few miles from where I live, dozens of men working on bridges fell to their deaths.
These stories illustrate an important point. Our nation's bridges, tunnels, and roads are constantly breaking down. And despite the risk of accidents, they need to be repaired.
Perhaps that's why the U.S. government is throwing billions of dollars at the problem.
The thing is, the companies receiving those billions could help investors like us pocket a windfall of profits. Let me explain...
No Match for the Elements
The world isn't kind to the things we build. Whether it's pipelines, roads, bridges, schools, or parking garages, the world wears things down.
Time plays a factor, to be sure. But so does Mother Nature. Rain, for instance, erodes structures and worms its way through the smallest cracks. And when combined with oxygen, water can create tremendous rust, like this: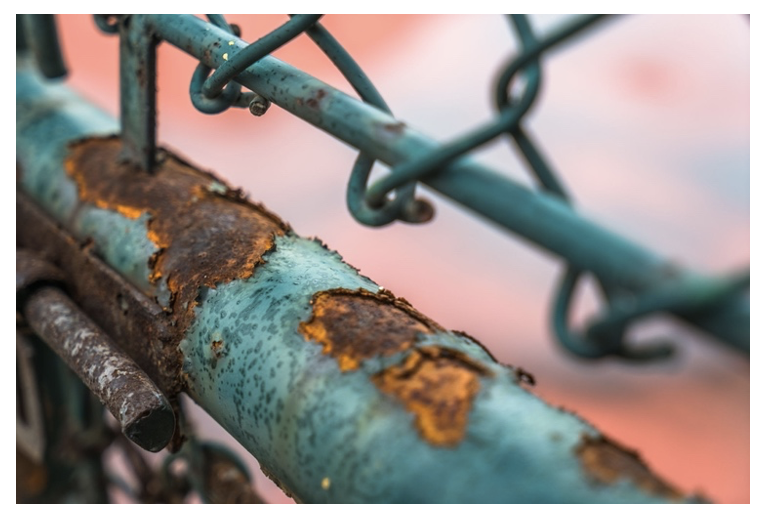 Water-based infrastructure often struggles, too. Ship hulls, piers, and bridge pillars have to deal with the relentless push and pull of waves and currents, not to mention all the barnacles and critters that take up residence whenever a hard surface stays underwater for long.
The sun, too, causes problems. The day-night cycle causes all materials, but especially metals, to expand in the heat and contract in the cold — over and over. This strains joints and bolts, and eventually causes tears and cracks.
Whether by rain or sun or sleet, America's infrastructure isn't meant to withstand the elements. Perhaps that's why we find ourselves in a precarious situation...
Needs Improvement
Two years ago, the American Society of Civil Engineers ("ASCE") assessed U.S. infrastructure in more than a dozen categories. The final grade? A "C-" — less than ideal.
According to the ASCE, of the nation's 617,000 bridges, 42% are at least 50 years old. And nearly 50,000 of them are "structurally deficient."
This past June, part of a heavily-trafficked I-95 bridge collapsed.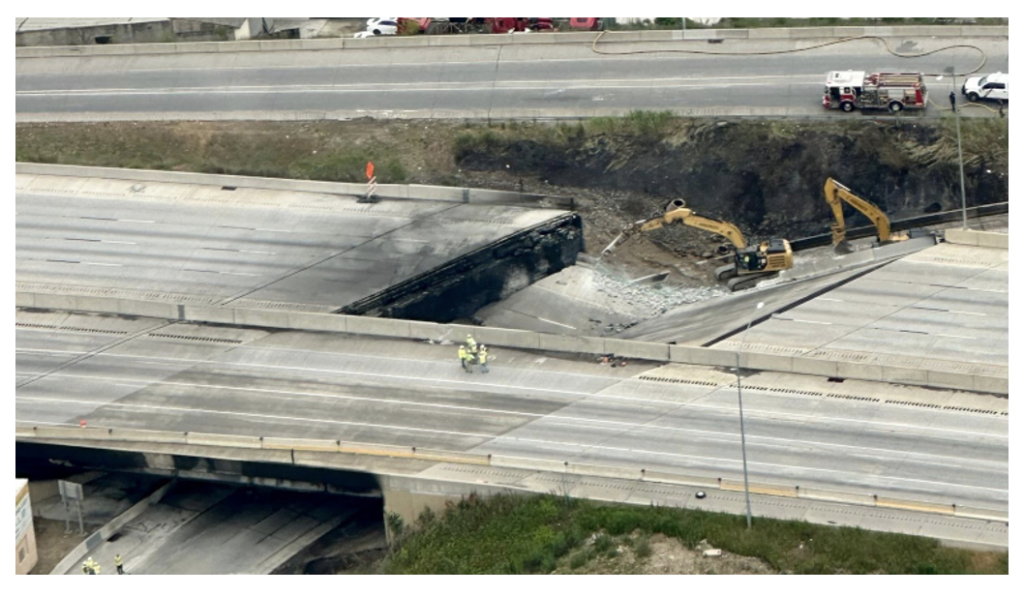 And in January 2022, a bridge in Pittsburgh collapsed just hours before President Joe Biden was set to give a speech in the city — about the need to repair America's bridges!
Focus on a Solution
If there's any good news, it's that America's infrastructure problem hasn't gone unnoticed.
In 2021, as part of the trillion-dollar Bipartisan Infrastructure bill, the federal government announced $3 billion to be invested into dam-related projects, and a whopping $110 billion into improving bridges, roads, and related areas.
Companies, meanwhile, are solving this problem with advanced technology — specifically, drones and robots.
Shell (SHEL), for example, the British oil giant, used to have to shut down its entire Louisiana chemical plant to run inspections. Now it uses robots that harness magnets to crawl up the metal holding tanks and inspect the surface for cracks and other issues. Engineers can then analyze the information to determine what needs fixing.
Elsewhere, flying drones use cameras and other sensors to monitor bridges, power lines, substations, and pipelines faster and safer than humans ever could. Other robots can crawl or climb places humans can't fit or would otherwise be too dangerous.
There are even robots that swim and perform underwater maintenance. And all data gathered by these machines is fed back to systems using Artificial Intelligence ("AI").
Time to Invest
Considering its impact on America's infrastructure, it's no wonder that Fortune Business Insights estimates that the global commercial drone market will be worth nearly $11 billion this year and will surpass $54 billion by the end of the decade.
Robotics is an even bigger market. Mordor Intelligence projects this market to reach $258 billion by 2028.
The question is: How can we target these markets as investors?
One option is to invest in specific companies that have adopted robots and drones to get things done, and not just to address infrastructure issues.
Shell, for instance, is planning to expand its use of robots to monitor offshore oil and gas rigs. And Amazon (AMZN) has more than half a million robots helping its warehouses run more efficiently.
As for me, I'm looking to target as many robotics companies as I can with a single investment. That's why I've found the ideal fund — one that's already delivered 20% gains so far this year.
"Pro" subscribers will get all the details below, so don't miss out.
FOR TREND TRADER PRO READERS ONLY
>>>>>>>>>> Learn more <<<<<<<<<<
Cheers and Good Investing,


Chief Investment Officer
Trend Trader Daily