A few weeks ago, my television at home bought the farm.
The culprit? A fried motherboard, the circuit containing a range of components that serve as the TV's "brain." Meanwhile, the same issue recently cost me my beloved stereo.
Maybe you've experienced this problem, too. These days, everything from our smartphones to our TVs run the risk of motherboard failure.
And while the expense and hassle to replace an iPhone or stereo is significant, it pales in comparison to the expense a company faces when its entire computer system overheats.
This is a major threat companies are facing nowadays. Perhaps that's why a new kind of technology is quickly "heating up" — a technology that can help protect everything from electronics to gaming systems to electric vehicles.
Today, I'll introduce you to this technology…
And reveal how to ride its emergence to market-smashing returns.
Caution: HOT!
All electronic devices — from the smallest cell phone to the largest computer system — generate excess heat. And they all require thermal management to improve reliability and prevent failure.
If a device can't properly release the heat that builds up, odds are, it'll overheat and go the way of the dodo.
To release this heat, components are added that can push hot air away from your device. Common components include fans, heat pipes, specially-designed vents, and heat sinks — special tubes that suck up hot air and pull it away.
These components are examples of thermal-management technology, a market Mordor Intelligence projects will reach $17 billion by 2028.
But now a fast-growing alternative is disrupting this market…
An Intro on Liquid Cooling
This alternative is called liquid cooling.
As its name suggests, this technology involves using a liquid, such as water or a refrigerant, rather than air, to cool a device.
Liquid conducts more than 3,000 times as much heat as air and requires less energy to do so. And thanks to recent advancements in piping technology, the risk of this liquid coming into contact with the device that it's cooling is substantially less than in the past.
How's it work?
Much like the radiator in your car or home, liquid-cooling systems circulate liquid through water blocks that rest on top of whatever is being cooled — a semiconductor chip, for example. The cooler liquid circulating through the block pools the heat away from the chip, cooling it down.
At the same time, thermal paste and a baseplate component rest between the water block and chip to help improve the heat-transfer process. The heated fluid is pumped to the radiator, where fans expose it to cold air. The re-cooled fluid is then returned to the water block to be heated, and the cycle repeats.
This is a futuristic concept. And I haven't even started telling you about what's known as "underwater computing." That's where computer servers are literally immersed in tanks full of cool liquids. Awesome, right? For more info on that, keep reading my weekly essays!
The Backbone of our Web-centric Economy
But to get back to today's main story, liquid cooling is on track to become a $13 billion sector within the thermal-management market, this according to Allied Market Research.
Even today, this technology is being used to protect things like gaming consoles, crypto mining rigs, computers, even electric vehicles.
But liquid cooling's biggest use-case revolves around data centers.
Data centers are the backbone of our web-centric economy. They're responsible for storing vast collections of hardware (think computers, routers, and mainframes) and sharing unfathomable amounts of digital information.
Because these centers often contain thousands of systems, all of which are running 24/7, they usually rely on cooling systems to keep them from overheating.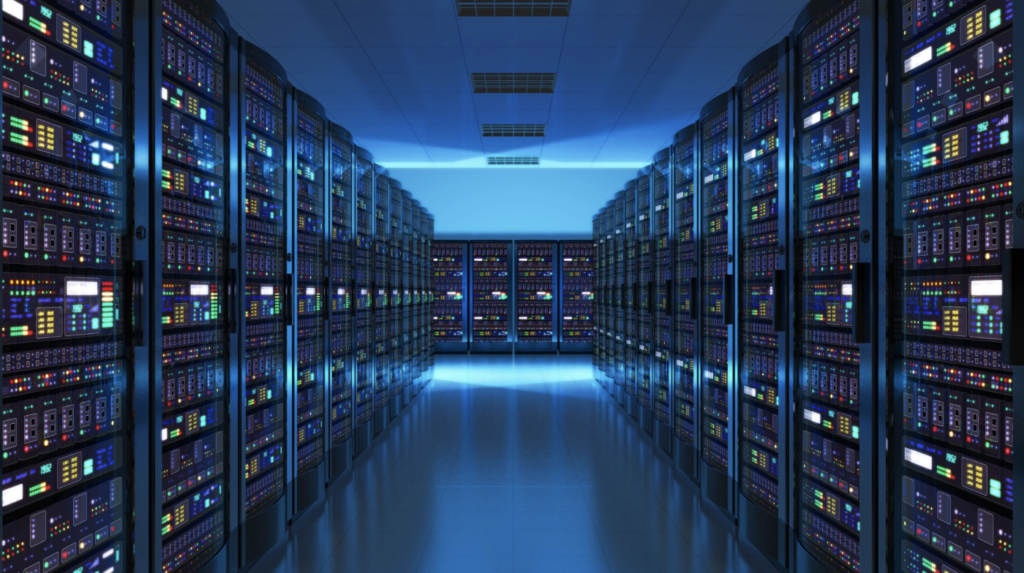 And make no mistake: Keeping these centers cool isn't cheap. According to Energy Innovation, a non-governmental organization focused on energy research, running air-conditioning systems can account for up to 43% of a center's energy use.
There's a Need for This Technology
At first blush, that may not sound like a lot. But consider that Arizton Advisory & Intelligence estimates that the data-center market will be worth $288 billion by 2027, up from $215 billion in 2021.
In other words, there are a lot of data centers out there. And they're all relying on existing, costly thermal-management technologies.
The thing is, these costs mean there's a strong incentive for these companies to "go liquid" — both to lower operating costs and to reduce their carbon footprint.
And that opens up an exciting investment window for investors like us...
Your Chance to Profit
A quick glance at some of the players in this space reveal some familiar names.
Microsoft (MSFT), for example, recently completed a pilot project centered around liquid-cooling technology that it hopes to take global very soon.
And Nvidia (NVDA), makers of complex graphics cards often used in data centers, is set to introduce a liquid-cooled version of its A100 computer card.
Even the federal government is noticing this technology's impact. In May, the U.S. Department of Energy announced a $5 million grant to fund an advanced liquid-cooling system.
To try and profit from this emerging technology, you could scoop up shares of either of the companies I just mentioned. But keep in mind: both are massive, trillion-dollar businesses. They've got a lot of irons in the fire, so investing there to get exposure to the liquid-cooling trend would be too broad.
That's why I'm so excited to tell you about a California-based company that's laser-focused on liquid-cooling technology. Its stock is already up nearly 200% this year — but given what you learned about today, I believe it has a lot further to run.
To grab all the details and make a quick trade, make sure you become a "Pro" subscriber.
And by the way, if you're interested in getting my deep-dives into emerging trends like liquid cooling, autonomous vehicles, and Artificial Intelligence, also consider signing up for my Digital Fortunes newsletter. That'll get you positioned to earn even bigger windfalls.
FOR TREND TRADER PRO READERS ONLY
>>>>>>>>>> Learn more <<<<<<<<<<
Cheers and Good Investing,


Chief Investment Officer
Trend Trader Daily