How the military's new "WMEs" could give us an edge against China
You may have noticed that China ("PRC") has been playing "peacemaker" all over the globe lately.
In March, it brokered a truce between Iran and Saudi Arabia...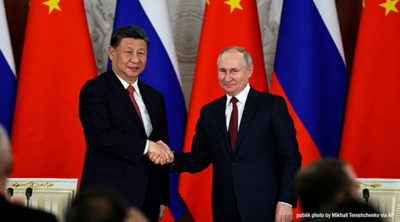 It's been circling around the Russia/Ukraine conflict for weeks, too – hoping for a global political win if it can finagle a peace deal.
Now there are even rumblings about the PRC attempting to negotiate an end to hostilities between the Palestinians and Israelis.
Why does this matter, you're wondering?
Because in the last two articles of this six-part series – which culminates Thursday in my new Breaking Opportunity Alert, Eagle vs. Dragon: The Battle for the 21st Century...
I hit the high-spots of China's largely under-the-radar agenda to weaken, undermine, usurp, and ultimately dominate America and its allies in the global pecking order.
And replacing the U.S. in its traditional role as global arbiter of peace is just another part of the PRC's master plan to take over the world by 2049, by any and all means.
To that end, I've mentioned China's apparent weaponization of the COVID pandemic...
Its escalating espionage against America with such seemingly innocent things as seaport cranes and weather balloons...
And even the increasing trade deficit between our two nations, which I assure you, is absolutely a tactic of economic warfare.
More critically, we talked in some detail about China's insidious Bribe and Road – sorry, Belt and Road – Initiative...
Which has already gotten its hooks into more than 75% of the world's nations to one degree or another – and it hasn't even hit its stride yet, by some projections.
Just as importantly, we also began to touch on the ramp-up in Chinese military and strategic antagonism we've seen in recent years.
These brazen aggressions include construction of permanent installations on newly fabricated islands in the South China Sea...
The establishment of "security agreements" in strategically sensitive nations in the Oceania region, like the Solomon Islands...
Plus multiple and increasing air-space incursions into Taiwan – and the reckless engagement of military aircraft from the U.S. and our allies (like Australia) in international air space.
The problem is, all this is really only scratching the surface of Chinese aggression.
China's on the offensive – but again, there's an upside (and a twist)
You're probably not aware of this, because the mainstream media does NOT like to make a big deal out of it...
But China's got the largest standing army in the world, by far. It's more than 40% bigger than ours, in fact, and growing by the minute.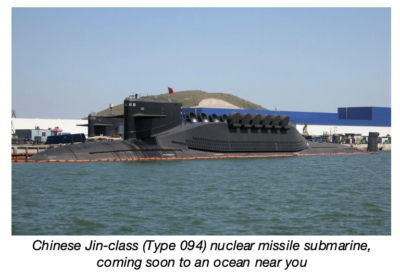 The PRC's Navy is now larger than ours, too, by total vessel count...
And it's projected to have nearly 60% more warships than we do by decade's end.
This formidable fleet now includes at least six ballistic missile subs armed with high-tech new JL-3 nukes that can hit the U.S. from as far away as Chinese coastal waters.
China's arsenal of long-range nuclear ordnance is also now likely bigger than ours in terms of total warheads.
Why am I talking about the PRC's Weapons of Mass Destruction ("WMDs")?
Well, it's not to scare you. In a way, it's actually to bring you hope...
Because there's a game-changing new twist on WMDs – and the escalating dynamics of force that increasingly govern the relationship between the U.S. and China.
And as I've been alluding to all along in this series...
It's nothing less than a technological breakthrough that could even the odds between the U.S. and PRC on virtually every front – or even tilt them in our favor.
The best part, if you like legitimate chances to make eye-popping stock-market returns...
Is that I've pinpointed the one company I believe has the very best shot at 1,000% gains or more over the long-haul as this breakthrough literally changes everything.
Here's the setup...
Introducing "WMEs" – like war profiteering without the guilt (or the war, maybe)
Some students of history might argue that the earliest WMDs were the infected, but still-living, plague victims the Hittites sent into their enemies' lands in 1500 BC...
Or the smallpox-ridden sheets the British colonists – and later, the U.S. Army, according to legend – gave to the American Indians.
Personally, I'd argue that WMDs really became a game-changer in World War I with the advent of large-scale chemical warfare...
And I think a lot of people would hold that WMDs have existed since August of 1945, when the Unites States dropped a pair of atom bombs on Japan.
My point is that no matter how Weapons of Mass Destruction came into being...
There can be no reasonable doubt that the world would be much a better place without them.
On the other hand, there can also be no doubt that the existence of WMDs is an effective deterrent to armed aggression between powerful, developed nations.
That's basically what the Cold War was about – defeating Russia without overt military action on a scale that would trigger a "mutual assured destruction" release of WMDs.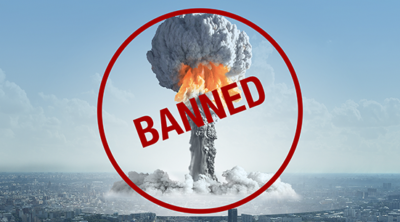 But imagine if there were a NEW kind of targeted, large-scale "super-weapon" that could also serve as a powerful deterrent to invasion or major military action...
Without causing ANY deaths or casualties – even when deployed on a massive scale.
Now imagine that such technology was controlled by the United States for a sufficient length of time to allow us to regain the global upper hand against China.
And finally, imagine this same technology ultimately being adapted for civilian life and radically changing it for the better...
Much like the Internet, cellular communications, GPS, and other crucial Pentagon inventions.
Because that's exactly what I believe these "WMEs" could represent for America, its allies, investors, and the world, starting immediately.
Now, I know exactly what you're thinking...
Go ahead and Google "WMEs" if you want – but it won't lead you to any profits
That's because this emerging technology is still almost entirely under the radar, which is exactly the way Washington wants it, I think...
So pretty much the only way you could get the full scoop on it – and the profit opportunities that go with it – is from me.
And no, I won't reveal the specifics on this new military-tech breakthrough in a wide-release public forum like this one, or even reveal what "WME" stands for in my analysis.
That simply wouldn't be fair to those who are not yet holding shares of the U.S. company I believe will be among the biggest long-term winners from this quantum-leap in technology.
Because right now, it's a pretty small company, with a lot of room for its stock to run up...
And if I'm right, shares of this firm are going to go ballistic (no pun intended), once throngs of everyday investors become aware of these WMEs.
To be clear: I don't want to be the reason a massive wave of mainstream investment happens for this stock...
I want to be the reason why readers of mine, yourself included, are holding shares of this company when it DOES happen.
So that's the full setup. Now here's the payoff...
There's an easy way you can discover everything you need to know about this potentially lucrative situation – including substantial detail on the company itself.
And you can do it completely free of charge or obligation, beyond a little bit of your time.
Once again, all you need to do is tune in to my new Breaking Opportunity Alert, Eagle vs. Dragon: The Battle for the 21st Century.
This epic video will go live on Thursday, May 18th, at approximately 1 p.m. EST – about 48 hours from now.
Corresponding with the video's release, you'll receive the sixth and final installment of this Trend Trader Daily series, with all the details on how to attend the presentation.
To be clear: Viewing this Breaking Opportunity Alert requires no pre-registration, online sign-up, qualifying purchase, or any other action on your part...
Just click the link provided in the final article of this series, and you're in.
Again, we plan to send that e-mail out at approximately 1 p.m. on Thursday.
Believe me when I say that you'll want to be ready and waiting at that hour – and have some time set aside to watch this urgent exposé...
That way, you'll be in the best position to act as quickly as possible on the urgent stock recommendation I'm showcasing in this Breaking Opportunity Alert.
Seriously, you should give this situation your full attention...
Because you only have the chance to get in on the ground floor of potentially world-changing Pentagon-backed technological innovations once in a great while.
And as I've laid out in this series over the last two weeks, I truly believe now is one of those moments – like it was for GPS, cell phones, the Internet, digital photography, and more.
You won't want to miss out on this Breaking Opportunity Alert. So don't.
Clear some time for Eagle vs. Dragon: The Battle for the 21st Century on Thursday, starting at approximately 1 p.m.
And let's get down to the nitty-gritty of this incredibly exciting and rapidly developing situation.
See you then!
Cheers and Good Investing,


Chief Investment Officer
Trend Trader Daily