I just love it when my colleagues and I are way ahead of Wall Street.
Let me explain...
Apple's recently-announced augmented reality ("AR") headset is being touted as "the next big thing in tech."
Given Apple's history, I understand the accolade. This company has a history of entering late into a tech field (think music and TV streaming), then redefining and eventually dominating the space.
I believe something similar will happen over the next few years when it comes to virtual headsets. But here's the thing...
Investing in Apple (AAPL) might be what most investors will consider doing. But the profit potential there is limited. After all, Apple is already a multi-trillion-dollar company. Its stock isn't likely to jump by 5x or 10x.
Instead, I've got a way to invest in this emerging trend that sets up plenty of profit potential. First, though...
The "iPhone Killer"
I've covered AR technology extensively for the better part of a decade. Seven years ago, I interviewed a UCLA scientist who was using AR's immersive technology to treat soldiers with post-traumatic stress disorder.
Meanwhile, my team at Trend Trader Daily has been predicting the new Apple headset for at least the last two years!
They even went so far as to say that Apple was planning to commit the single greatest act of creative destruction ever: intentionally killing off the iPhone.
Indeed, we've been calling the new device the "iPhone Killer." Because over time, this headset will begin to replace our overwhelming reliance on the world's leading smartphone.
This new headset will feature what's known as mixed reality ("MR"), a blend of augmented reality and digital content overlayed with the real world.
The name alone — the Vision Pro — should tell you exactly where Apple is going to flex its marketing muscle.
In other words, this is no mass-market device. Priced at $3,499, this headset is geared toward high-end users — think developers of software, games, and videos. These are often companies with large budgets that can make great use of the technology long before you or I rush out to buy the headset.
What Is This Thing?
At first blush, the Vision Pro looks pretty much like any VR headset you can buy online: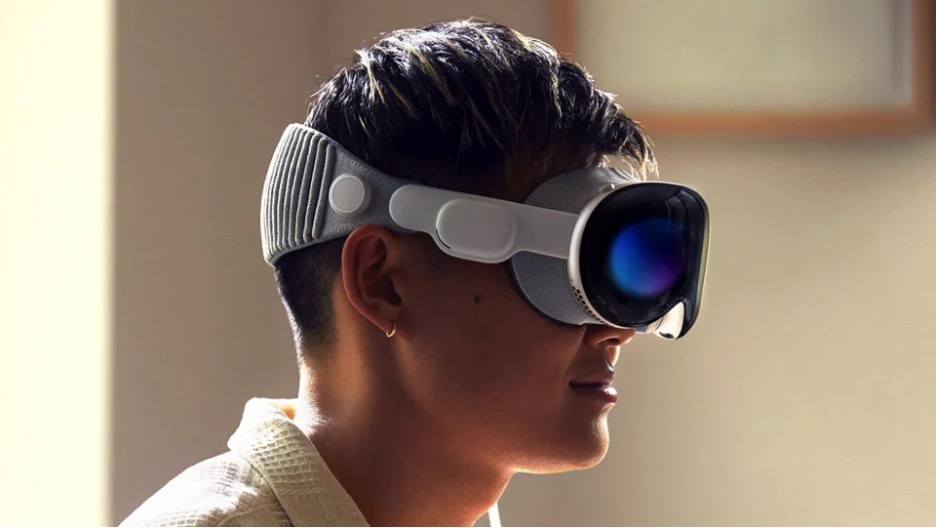 But it's inside this device where Apple will reap rewards. You see, this headset aims to serve as a multi-functional computer.
The Vision Pro combines movies, digital apps, personal photos, or just about any content you'd look at on a computer monitor, and then overlays that onto the real world.
Indeed, Apple is already focusing attention on the breakout field of spatial computing, which is really what the Vision Pro is about. Apple is really onto something here.
Spatial Computing
The concept of spatial computing — basically, the process of using digital technology to make computers interact in a three-dimensional world — has been around since the early 2000s.
But now it's an emerging field. According to Future Market Insights, spatial computing will become a $544 billion market by 2032. And Apple is ready to dive in.
The thing is, so are a number of competitors. Consider that:
After being too early to the party last time around, Google (GOOGL) recently re-entered the sector by purchasing North, a Canadian maker of natural-looking "smart" glasses. 
Facebook parent company Meta (META) has had a headset for some time now.
And Intel (INTC) has been developing "normal"-looking smart glasses for years.
Make no mistake: This competition is a good thing. It means investors will have plenty of opportunities, especially when you start to look at companies beyond those selling the finished products...
Investors Are Already Profiting
For example, look at companies making the components that go inside these devices.
As it happens, readers of my Digital Fortunes premium service are already profiting from one of these companies.
Founded in 1997, the company I'm referring to ranks as one of the earliest creators of smart glasses and video eyewear. And I'm pleased to report that its early-mover advantage is really paying off...
For example, last month, this company registered record growth for its smart glasses. First-quarter sales soared 67% from the year-ago quarter to more than $4 million.
It's also expanding beyond its core markets of healthcare, manufacturing, and warehousing. Additionally, the company recently closed deals with not one but two defense customers.
Better Than Apple?
So, sure — to potentially profit from the "next big thing in tech," you could invest in Apple. After all, since last fall, the tech giant has outgained the overall market by about 80%.
But your profit potential there is limited. Apple's already a nearly three-trillion-dollar company. 10x gains on an investment today would mean Apple's market cap soars to almost $30 trillion. That's not likely.
Instead, I'd urge you to invest in the pure-play company I mentioned above — the one that's already delivering profits to readers like you.
Of course, you'll need to become a "Pro" subscriber — or better yet, become a member of my Digital Fortunes service by calling (844) 575-7767 — to learn more.
It's worth it!
FOR TREND TRADER PRO READERS ONLY
>>>>>>>>>> Learn more <<<<<<<<<<
Cheers and Good Investing,


Chief Investment Officer
Trend Trader Daily