Have you seen the shocking headlines recently?
"5 Reasons Why Electric Vehicles Have Slowed" — Forbes.
"Electric car sales to private buyers fall sharply" — BBC.
"Automakers Delay Electric Vehicle Spending as Demand Slows" — New York Times.
The fact is, sales and adoption of electric vehicles (EV) has slowed across the globe.
But don't give up on this sector completely. You see, I'm convinced one EV maker will not only survive, but thrive — and it's a must-have for your portfolio.
The Truth About EVs
The statistics on EVs can be misleading.
Sure, consumers worldwide spent nearly $400 billion on electric cars last year. And the U.S. alone is expected to add one million new EVs to its roads this year.
But according to one important metric, things aren't so rosy.
This metric I'm referring to is known as "days' supply." This is a way of measuring how many vehicles a car dealer has on its lot at any given time.
For example, with a 20 days' supply, dealers would have enough cars on the lot for about three weeks before running out.
At the start of the year, the days' supply for EVs and traditional cars was about 52 days. But since then, while the number for traditional cars has remained around that number, the number for EVs has more than doubled. At its peak in July, the days' supply number for EVs was 111.
Essentially, consumers seem to be excited about driving an EV in the future — but not just yet. And there's a big reason for their hesitation…
Not So Fast
You might think it's the cost of buying an EV that's holding people back.
But between EV makers slashing prices — according to Cox Automotive, as of September, the cost of a new EV is down nearly 20% year-over-year — and various tax incentives, cost is becoming less of a barrier.
Rather, a recent survey of more than 1,000 drivers by polling company Ipsos found that 77% of respondents worry about the lack of charging stations for EVs. And 73% worry about an EV's battery life.
In other words, consumers are overwhelmingly concerned about the ability to easily and affordably charge an EV.
Until that process is as simple as getting a tank of gas, they ain't buyin'.
Loud and Clear
If there's good news for EV companies, it's that businesses, investors, and even the White House have heard consumers' concerns. And now they've decided to invest in robust EV infrastructure.
According to Bloomberg, investment in EV-charging hardware, installation, and maintenance will reach $100 billion this year, up from less than $25 billion three years earlier: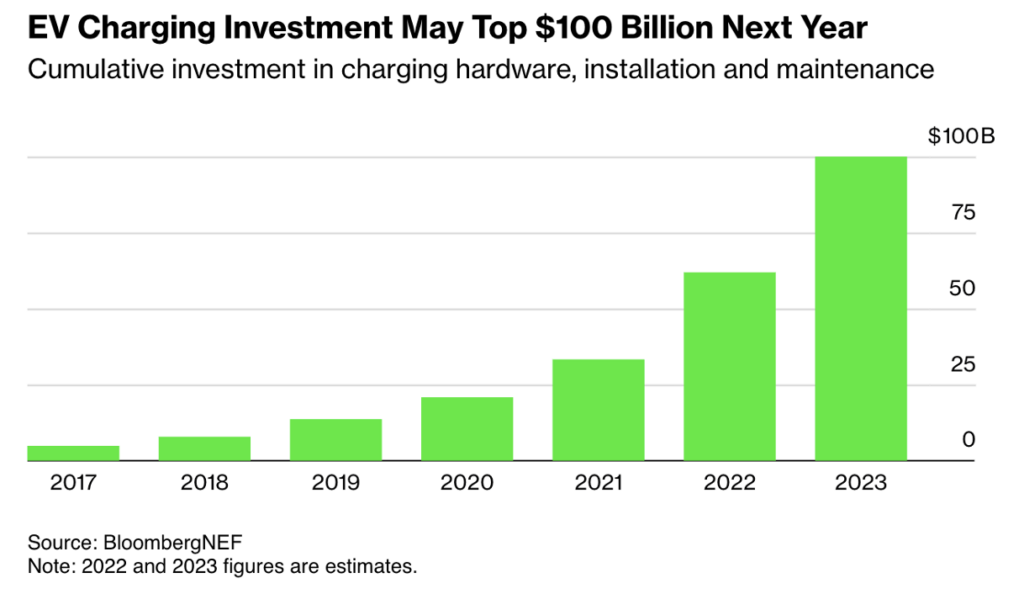 According to the National Automobile Dealers Association, local car dealerships are on track to invest $5.5 billion in EV infrastructure.
And as part of its Infrastructure Law, the Biden administration will invest $7.5 billion in EV charging and more than $7 billion in EV battery components, minerals, and critical materials.
This is good news for EV makers…
But it's especially good for one in particular — one whose alignment with Washington, automakers, and professional investors could take its profit potential to new heights…
The EV Winner
I'm referring to Tesla (Nasdaq: TSLA).
You see, you may be familiar with this company because of its electric vehicles, or perhaps because of its eccentric leader Elon Musk.
But it's Tesla's "supercharger" network that makes this company worth paying attention to.
Its network is a fleet of charging stations that EV drivers can use to power their vehicles — essentially, it's Tesla's version of a gas station. Superchargers are typically located near highways and drivers pay a fee based on how much energy the battery draws while charging.
Tesla already has more than 20,000 superchargers in service throughout America. But here's the thing…
Thanks to a wave of agreements in recent months, these charging stations are no longer just for Tesla-made EVs. Rival automakers including Ford (F), General Motors (GM), Rivian, BMW, Honda, and Hyundai have adopted Tesla's North American Charging Standard. Drivers of EVs from these companies will soon be able to access Tesla's Supercharger network.
Furthermore, last month, oil giant BP announced the purchase of $100 million worth of Supercharger hardware from Tesla, making it the first company to purchase fast-charging equipment from the automaker for use in a third-party charging network.
The Big Picture
Essentially, Tesla is quickly becoming the national supplier of EV charging stations. And everyone from deep-pocketed professional investors to the federal government has made EV infrastructure a top priority.
For Washington's grand vision to come to fruition, a vast network of charging stations — presumably Tesla's — will be required. And that puts Tesla in the rare category of companies that the government can't afford to let fail.
It's funny: It wasn't so long ago that Tesla was considered a moonshot — a company with high potential but extremely high risk. Now, based on its momentum in the EV charging sector, this company has become one of the safest investments out there… 
And one still ripe with profit potential.
Cheers and Good Investing,


Chief Investment Officer
Trend Trader Daily